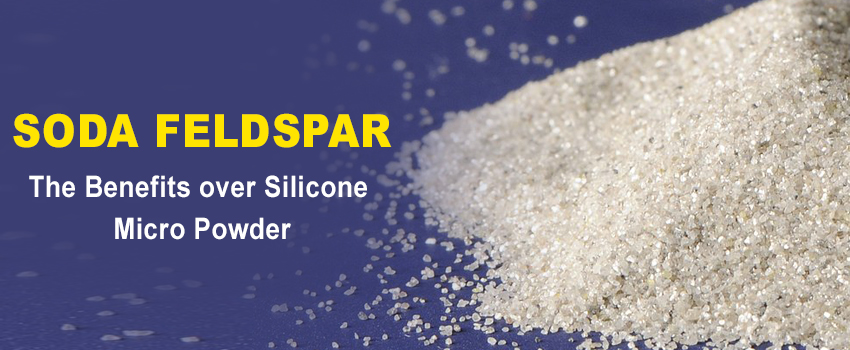 Both silicon micro powder (also known as silicon dioxide) and soda feldspar are distinct minerals with unique characteristics and uses. The exact requirements of the planned application will determine which option is best. Here are some advantages of soda feldspar over silicon micro powder that could be realized:

Fluxing and Melting Point
For usage as a fluxing agent in the manufacture of ceramic and glass, soda feldspar is frequently utilized. As a result, homogeneity and fusion are encouraged at lower temperatures, assisting in lowering the melting point of materials. Silica powder, commonly referred to as silicon micro powder, is not frequently employed as a flux and does not help to lower melting points. Dealing with the right Soda Feldspar powder dealer will help you get quality products that are perfect for use.

Alkali Content
Alkali elements like sodium and potassium found in soda feldspar can affect how colours develop and other glaze and ceramic qualities. These alkali components can contribute to distinctive colours and visual effects that silicon micro powder might not be able to produce.

Fluidity and Viscosity
Soda feldspar can improve the glaze melt's fluidity in glaze formulations and have an impact on how the glaze behaves on ceramic surfaces. Since silicon micro powder lacks the same fluidity-improving qualities, it is frequently employed for its textural, abrasive, or refractory qualities.

Chemical Interaction
Compared to silicon micro powder, soda feldspar has a different chemical makeup that can affect how it interacts with other substances. In ceramics and glass, this may lead to a variety of surface textures, glaze interactions, and crystallization patterns.

Colour and Aesthetics
In comparison to silicon micro powder, soda feldspar offers a wider range of creative options because of its alkali content, which can affect the colour and aesthetic aspects of ceramics and glazes.

Crystal Formation
Due to its mineralogical makeup, soda feldspar can contribute to crystalline effects in glazes and ceramics. It's possible that silicon micro powder doesn't have this characteristic to the same degree.

Health
The human body has difficulty breaking down and metabolizing silica fume because of its relatively solid texture. Long-term exposure to silica fumes may result in allergic asthma, bronchitis, and pneumoconiosis. The body is not particularly harmed by soda feldspar.

It's crucial to understand that silicon micro powder and soda feldspar serve different purposes in various contexts. Due to its fluxing and colouring abilities, soda feldspar is frequently used in the ceramic and glass sectors, whereas silicon micro powder finds usage in a variety of industries, including abrasives, fillers, coatings, and more. The project at hand's unique functional and aesthetic requirements should be taken into consideration when deciding which of these materials to use.


Uses of Soda Feldspar In Paint

Increase Gloss and Durability
The shine and longevity of the paint can be improved by adding soda feldspar as an addition. By adding a layer of protection and creating an even, glossy film in the paint, it increases the coating's durability and resistance to normal wear and tear.

Adjust Rheological Properties
The rheological qualities of paints can be modified by changing the soda feldspar's particle structure. The fluidity and viscosity of the paint can be altered by adding soda feldspar, making it simpler to create and spread.

Choose to deal with the best Soda feldspar powder dealers and get the right product for your use.